I didn't want to say anything until I closed on it...bad luck, karma, the fear that someplace this wonderful would somehow evaporate if I talked about it before it was truly mine...But as of last Tuesday, this sweet little cottage is really mine.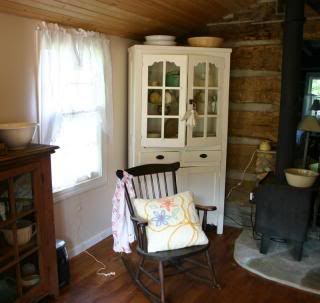 It is as true as the wish I made for it...A tiny, pre-Civil War cabin set in the foothills of South Central Virginia, down a long and winding gravel lane that follows a meandering creek, surrounded by low-lying mountains.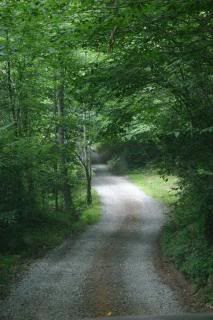 I could not have asked for a better haven, could not have imagined any place this idyllic or peaceful.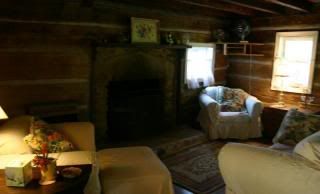 And I found it by accident...sort of...
After months of looking online on realtor.com and on various realtors websites, I tried Cragislist.org. One paragraph written by the cabin's owner, 3 pictures to prove his point and I was hooked.
Mertis came to see it and she was so besotted, she bought the mountain (okay, big hill) across the lane!
Marti's thinking about building something here, too.
In fact, I could see a few of my women friends building little cabins in the woods- it would keep us all sane in our old age. What better than to have a little space to call your own where everything goes just the way you want it to...You don't have to cook supper if you don't want to, you don't do anybody else's laundry, you don't hear the blare of the TV or get sucked into the vast chasm that is the internet (oh, like it's just me wasting hours of my life looking up useless tidbits of fascinating information?)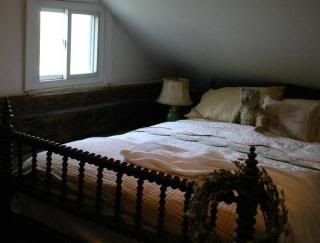 There is no E-bay here. No mall. Hell, there isn't even a place nearby to buy a mop (Lord knows I tried!)
Instead there are more stars in the sky than I thought possible- so many they look like snowflakes and whispy clouds instead of the Big Dipper and Orion's Belt. I sat outside on a tractor last night, drinking beer and staring up at the sky, wishing my Dad who knew the name of each and every single constellation could be there with me.
And then I realized of course, he is.