Here I am, snug as a bug in a rug. The woodstove and the fireplaces are going. The cabin is scented with the sweet smell of brown sugar from the bean and ground beef stew that simmers in the crock pot in the kitchen.
Earlier, Maggie the Psycho Dog and I went out to check the creeks that rim the property to see if the rain had brought any measurable water and luckily it has.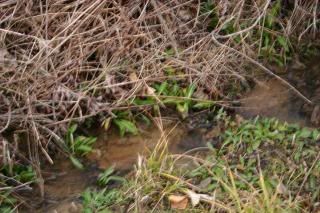 May not look like much, but this summer when the spring box dried to all but a trickle, the beds were bone dry. It was a joy to hear the squish of boggy water beneath my feet as we slogged closer to the bottom land where the two creeks converge.
Across the lane, by the pond, I could actually hear and see the swiftly flowing water and follow it onto the far side of the property.
It is pretty much winter here. The leaves have all fallen. The branches make stark brown streaks across the gray sky. Here and there along the creek beds I find ferns and sweet green moss, a little reminder that winter has yet to fully arrive.
I suppose I'll need to take down the Christmas decorations tomorrow before I head back. There's nothing more depressing than the end to such a happy time and only the dull months of winter stretching endlessly toward Spring.
But, for now...I'll enjoy one more night of color and idealism.