This is young love: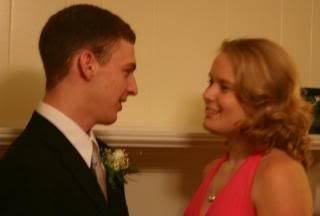 This is the Eldest Unnamed One's first love and his first Valentine's Day with a true love...So he knew what he wanted to do- He wanted to send her roses. He said buying roses and taking them to her was cheesy and I agreed with him. He knew having roses delivered would make her Valentine's day. So he asked me for help.
After a great deal of hunting around online to find something wonderful and yet not totally outrageous in price, we found 1-800-Flowers. This is what they promised to send, with guaranteed delivery on the 14th, to the Beloved's home:
But on Valentine's Day, nothing arrived. Nada! Zip, zilch, zero! Nothing!
So, I emailed them and as we'd payed with Paypal, I began the complaint process.
Day after Valentine's Day- Not a word from them.
Then today two brief emails arrive showing that delivery has JUST been made TO OUR HOUSE! Our house- not across town to the Beloved's house where the flowers belonged. And since they'd sent a confirmation email stating they had the order right the day after we ordered them, I began to smell a rat.
They sent a link to UPS tracking to show the package had been held up in Philadelphia due to weather and explaining this was their unpreventable reason for the late arrival...Okay, but why send the roses to my house then? Furthermore, isn't that why you pay 15 extra dollars for the delivery guarantee, so you can get a refund if it doesn't arrive? You don't pay guaranteed arrival so you can get wilted flowers delivered two days AFTER the special day to the wrong address!
Apparently 1-800-Flowers disagreed because this afternoon, right after the two emails arrive in my In-box, I find a purple, 1-800 Flowers box on the front porch.
This is what was inside:
Wilted, brown-edged, bent and wrinkle-petaled roses. I don't think they look like they were pictured on their site, do you?
So, I wrote back and said "Don't try to pee on my leg and tell me it's raining. We want a refund."
But don't feel bad, 1-800-Flowers, it's not just you...
FTD.Com's roses arrived a day early and in about the same, if not worse, shape...also guaranteed to arrive ON the 14th, not before and not after. Also satisfaction guaranteed.
This is what I ordered from them:
And this is what we got:
I called them. Know what their customer service line said? "I'm sorry, we're too busy to take your call today. Email us."
So, I did. And guess what?
They haven't even written back!
But that's okay. I watched Oprah today and learned that every event we perceive in a negative light is really a positive lesson and we should be thankful the learning event occured because we have been given a gift of knowledge and an opportunity to grow.
Okay, here's what I got out of the opportunity-
Maybe buying roses at Fresh Market and carrying them to your loved one is better than buying them at the cheesy grocery stores. It certainly beats the $80 bucks I would've paid a local florist to deliver said roses and when you're personally in charge and acting as the delivery agent, you know those damned flowers will be there they're supposed to be when they're supposed to be there! But no matter how you choose to give your beloved flowers, anything, absolutely anything, beats buying roses online from 1-800-Flowers or FTD.com!
But there was an even better gift in this experience- The Eldest Unnamed One has seen first hand what we all hope for in a true love- that roses are no substitute for what really counts, and when the chips are down, a real Valentine understands. She appreciates the time and effort put into the day and loves you just because you're you.
They're a class act, those two!