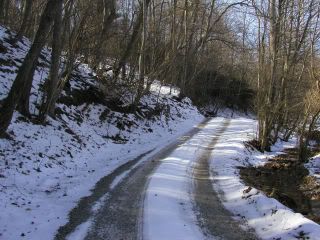 It did snow! When I arrived here at the cabin, the road was still covered and icy on the shady curves.
When I took Maggie out to walk along the half-dried creek bed she was completely bamboozled by the hard crust. She'd take three steps, fall through on the fourth and freeze, whirling around to see who'd pushed her down through the ice.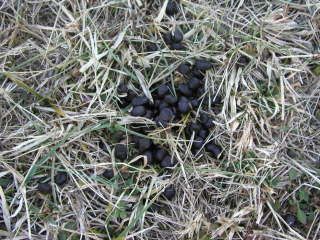 There's a lot of this in the wildflower field. I figure it's deer poop, but if you know otherwise, let me know...Maybe it's a new variety of bean.
I can see the fire crackling bright orange through the window of the wood stove. The cast iron kettle sitting atop its surface pushes out a steady blast of steam. Both fireplaces are going and I've baked a big batch of oatmeal, chocolate chip cookies.
This afternoon I wrote for hours, snug in my armchair, sipping hot tea. My fingers flew over the keyboard as the words bypassed my brain and appeared on the page before me. That is how it should be.
Even though the land around the cabin is cold and gray with winter gloom, this is still the place to be.
Technorati Tags: mountain life,country life,snow,writing life